I've been making these candles behind closed doors for a while now but have them ready for sale
starting October 20th, 2012. If you want to order, you can send me a paypal payment of $11.65 (price includes tax)
or send money order or pay by credit card - email me at azizaworldinc@gmail .com for more info!
Expect 2 weeks for shipment at this time as their made to order.
We will update website in a couple weeks with this info too:
Everyone loves candles!!! And now you can get my unique line! Perfect for the Holiday Season and for Christmas Presents! My candles are

ALL NATURAL SOY WAX!!! NOTHING ELSE BUT ALL NATURAL SOY WAX!

Not a mixture (some companies say soy, but unless its all soy, it could be combined with parrafin and still say soy!!!). Soy wax is biodegradable, eco-friendly and easy to clean!****** see below for comparisons on soy vs parrafin wax
I use All natural soy wax (no combination wax) combined with

100% essential oils mixed with premium grade fragrance oils

.
So my candles scent are strong and they fill up the room! My candles are also modelled after my original fragrance line.
So their are no generic scents.... you could find a candle for cheaper in a generic scent, but that's because their using less oils to make theirs.  Not that anything is wrong with that! I like a straight up amber or vanilla scent, but I wanted to keep my candles unique as my fragrances are.  On top of contributing to a small female business owner, you are also 

contributing to the American Soy Bean Farmers and our economic growth.   My candles like my perfumes; are handmade and poured.  The first time you light your candle, you will notice a "pool" around the center.   This is normal and will "pool" the same diameter the next few times you use your candle

. 

If the candle is not allowed to pool properly, you will get a "tunnel"

effect in the candle and a lot of wax will be wasted on the sides of the container.

 

Please do not move your candle once it is in this process and until after it is cooled

.

If you have any questions about the care of your homemade all

natural Soy bean candle, please connect with my forum online and ask me questions or email me!!! I'm working on a business line; but will be happy to call you if you want to talk via phone.
Sold in 6 oz Tureen jars
decorated with gorgeous jewels a Goddess would appreciate!!
Beautifully colored with soy dyes and no additives....
Biodegradable, non toxic, no parrafin, no lead wicks! Made from cotton and prestabbed with natural coating.
Sale price: $10.99 plus tax!
FREE shipping until 1/7/13
for the Holiday season!!!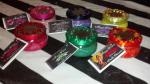 ****
Why "SOY?"
Paraffin wax candles are known to have 11 toxins that are thrown into the air while burning
Paraffin comes from petroleum
Burning a paraffin candle can contribute to asthma and allergy attacks.  Those with allergies are less likely to have a reaction with soy candles over paraffin due to its gentle burning.
Soy candles do not soot the way paraffin candles do. There is a considerable reduction of soot emission when burning Soy wax. Sooting is that black residue on the walls; ceiling and candle jar which is usually caused from a paraffin candle.  The black residue also can get in your lungs!
Soy is naturally grown and is non-toxic.
Soy wax comes from soy beans and doesn't contain pollutants
 Soy is biodegradable
Clean up of Soy can be done by using soap and water and containers can be reused
There are special wicks used for Soy wax candles that don't contain lead. 
Soy wax helps support American Soy Bean Farmers
Soy wax burns completely as paraffin leaves a portion of the wax at the bottom of the container.
Soy wax burns at a cooler and lower temperature making the burn time for the candle longer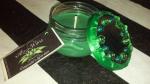 _________________
Neo-classical singer and perfumer.